Filmmaker Launches Revolutionary Book for Actors to Top Reviews
Evette Henderson, writer and producer of the highly acclaimed cyber bully film Cyber Sin which was released at World Youth Day in Spain 2011, has launched her second book on acting to top reviews.
Titled A Perfect Performance, the book is for actors of any age and experience who want to master the craft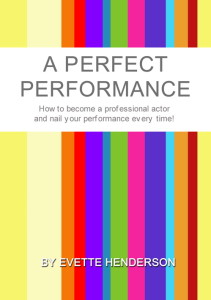 and business of acting truthfully and confidently at any given moment in any given circumstances.
"I have condensed years of interviewing industry experts worldwide as well as included my own journey in front of and behind the camera into an easy to read and apply book so the results are immediate and highly effective," Evette said.
"I wrote it because as an acting coach I have received so many questions from actors on technique. It's every actor's dream to nail their performance every time."
Evette said helping aspiring actors is her life passion. She founded her online actor's magazine, Ozemag, in 2007 and she wanted to share the insight she's learnt with the world and the best way she knew how was to write a book.
"Even though there are thousands of books on acting available, A Perfect Performance is proving popular because it's only 50 pages and is loaded with practical tools and exercises, career advice and insider secrets empowering actors to perform their best every time regardless of whether you're a seasoned actor or new to the industry.
"I've also analyzed and condensed three of Hollywood's most popular acting techniques, Chubbuck, Morris and Meisner, which makes it the ideal audition companion," she added.
Topics range from audition tips and script analysis to acting training and how to get the perfect head shot.
Evette has been in the industry for over ten years as an actor, writer, producer and has made many TV appearances and featured in many newspapers, all while having a thriving website.
"It's a hard industry to crack. The most important lesson I've learnt is to never give up," she said.
A Perfect Performance and Evette's other titles are available on her website for $10 to the first 100 people.
Ozemag is Australia's number one resource for aspiring actors offering candid interviews with industry experts, advice, tips and all the latest industry news as well as casting calls. All content is completely free.