Get "On the Edge" with The MOMologues Opening on the Erie Playhouse stage in February
The MOMologues – an original comedy about motherhood – highlights the "On the Edge" Tuesdays' series at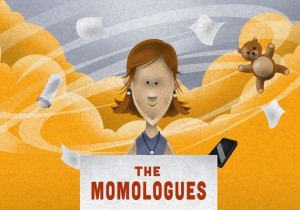 the Erie Playhouse in February and March. This play, which is presented as a staged reading, rips away the gauzy mask of parenthood to reveal what all mothers know but don't always talk about: it's overwhelming and exhausting, but also very, very funny.
The MOMologues was conceived by Lisa Rafferty, who searched in vain for a play that offered an honest, funny look at motherhood. Lisa teamed up with fellow moms Stefanie Cloutier and Sheila Eppolito to write a show based on stories and experiences from the trenches of raising eight children among them.
The result: a one-act play that followed four women through the first chapters of motherhood – attempts at conception, pregnancy, labor and delivery, and adjusting to life with a newborn.
The play was presented to packed houses at Eliot Hall near Boston. The audience – loaded with moms – loved it, howling with appreciation.
Buoyed by their early success, the playwrights expanded their one-act play into a full-length show, including a wide range of universal mom situations like gender differences, the Tooth Fairy, picky eaters, discipline, kids peeing in the playground and all the rest of the real-life comedy that is motherhood.
This full-length version of The MOMologues became an immediate sold-out success, and can now be seen at the Erie Playhouse featuring Patty Corella, Leslie Ford, Krista Lamb, and Kelly Rodland. The show is under the direction of Richard Davis. 
"On the Edge Tuesdays" with The MOMologues at the Erie Playhouse. It's sure to make you laugh, cry, and remind you what motherhood is all about.
Contains Adult Language
Show Dates & Times
February 11, 18, 25, and March 11 at 7:30
Tickets available at the door for $15.
"On the Edge Tuesdays" Special Event
The Erie Playhouse, 13 W. 10th St. Erie, PA
Box Office: 814-454-2852
Website: http;//www.erieplayhouse.org