The Absolutely Captivating Once on This Island at the Erie Playhouse Proves the Power of Love Conquers All
The tropical breezes will blow you away in the Erie Playhouse production of Once on This Island, which has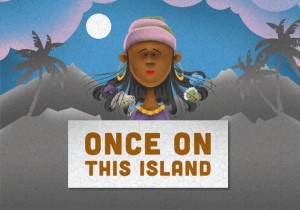 a run at the Erie Playhouse February 7-23.
Once on This Island is the second collaboration of Lynn Ahrens (Book and Lyrics) and Stephen Flaherty (Music), whose subsequent musicals have included Ragtime and Seussical – both produced by the Playhouse. It is based on the novel My Love, My Love by Rosa Guy (which in turn is loosely based on Hans Christian Andersen's The Little Mermaid). 
It tells the story of a small girl, who is spared by the gods on a stormy night. Sheltered in a tree, she is discovered by an elderly couple who take her in and call her Ti Moune, which means "little orphan." She lives on a tropical island that is divided between the rich descendants of the French settlers and the poor peasants.  One night Ti Moune rescues Daniel, a wealthy boy from the other side of the island, and falls in love. When Daniel is returned to his people, the gods who rule the island lead Ti Moune on a quest that tests the strength of her love against the powerful forces of prejudice, hatred and death.
The brave and fierce Ti Moune is brought to life by Shavon Thurston, while Daniel is played by Jermaine A. Beason. The gods who dominate the lives of the peasants are vividly portrayed by Hayes Moses (Agwe, God of Water), Stacy McClure (Asaka, Mother of the Earth), Adel Stewart (Erzulie, Goddess of Love) and Damone Morris (Papa Ge, Demon of Death).  A powerful singing and dancing ensemble rounds out the cast.
Almitra Clerkin directs and shares choreographic duties with Kelley Ulmer and James Dixon. Roberta Stoughton serves as vocal director with Andrew Rainbow as music director. Angela Howell handle costume design and Joe Hassler will provide the set & lighting design to sweep you away to the Caribbean islands.
Celebrate the art of storytelling with Once on This Island, a beautiful song and dance masterpiece with a rousing Calypso-flavored pop score. 
SHOW DATES & TIMES
February 7 & 8 (Premiere Weekend performances – all seats $15.00)
February 13-16, 19-23
Wednesday – Saturday 7:30 p.m.; Sunday 2 p.m.
All Adults $15.00 & $22.00, Students $13.50 (includes tax and facility fee)
The Erie Playhouse, 13 W. 10th St. Erie, Pa.
Box Office: 814-454-2852 ext 0
Website: http://www.erieplayhouse.org