Cindy Hemper
In this week's Sidewalk Series, we take a stroll over to 602 West 18th St., to the Gelateria Barbara, where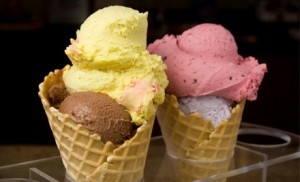 the gelato pops as the quintessential treat.
Gelato takes its roots in old Italy as a popular frozen dessert, and then later as an American variant of what is now ice cream. Gelato like most ice creams is made with some of the same ingredients Milk, cream, various sugars, flavoring including fruit and nut purees are the main ingredients in gelato.
The Gelateria Barbara is one of my favorite stops around Erie, and I find myself stopping in sometimes 2 or 3 times a week for the simply amazing treats prepared that would certainly give even the most discriminating Italian connoisseur the best local taste of the other side, rivaling that of the great Italian gelato masters.
Gelato is different from ice cream because it has lower butterfat content. Gelato typically contains 4-8% butterfat, versus 14% for ice cream in the United States.
Unlike most commercial ice creams in the United States, which are frozen with a continuous assembly line style freezer, gelato is frozen very quickly in individual small batches in a batch freezer. Churning during the freezing process incorporates air into the mix. The added air, called overage, is generally 20-35% unlike most commercial ice cream, which contains up to 50% overage. Lower overage results in a denser product with more intense flavors.
The proprietor of Gelateria Barbara, Tim Brown always keeps many different options of unique and tasty flavors, insisting that each new customer sample an artist's palette worth that will take your taste buds on a mouth-watering tour of Italy.
Featuring out of this world flavors such as panna cotta, salty toffee, and strawberry-lemon cheesecake, the gelato is served in single-scoop cones or Sundaes and even homemade pies or mousse cakes.
Created using a vintage gelato machine, the Gelateria Barbara's Chocolate Peanut Butter Marshmallow-flavored gelato is a big seller with adults and children alike, the Pinot Grigio flavor is truly unique.
While maintaining an intimate feeling of the family owned neighborhood shop, the Gelateria Barbara creates an old world atmosphere even printing the names of the gelato flavors in Italian.
With that true Italian feel, the Gelateria Barbara also offers a nice assortment of homemade pastas and other culinary delights such as fresh spaghetti, rigatoni, linguine, fettuccini, strozzapreti, arribetti and creste di gallo, as well as an assortment of artisan ravioli, including meat, five-cheese, porcini mushroom, dried tomato and pine nut, gorgonzola pine nut, shrimp and crabmeat, lobster and crabmeat, potato and white truffle.
Whenever you visit the Gelateria Barbara, you will be greeted with a cheerful "Buon Giorno!" usually by the proprietor, and with service that is always spot on and prompt, asked if you want to sample any flavors, or all of them. The staff is always friendly and courteous and they seem to be genuinely happy to be sharing this little piece of Italy with each of their customers whom they treat like family.
The incredible service compliments the superior confections and every experience is amazing. This is a major must stop for anybody who has never tried gelato, loves gelato or simply wants to taste the most incredible flavors this side of Rome.