By Cindy Hemper
Among the countless restaurants, pubs and taverns in our city, all having their own special feel and niche,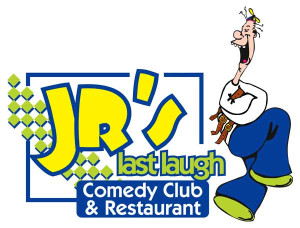 unique in their own ways, one stands out from the rest.
For more than a decade now, owners of Jr's Last Laugh, Debbie and Doug Richardson have been dishing up not only great food, but some serious comedy as well.
Jr's Last Laugh is the most distinctive place in Erie, having not only a fantastic food menu, but also being the only comedy club in the city.
Jr's is a well laid out club with a spacious lobby and bar area that is comfortable and welcoming to all. The main auditorium and dining area is large, yet still has an intimate feel, accommodating  bigger groups or just a couple.
The restaurant has a varied menu of munchies that include everything from deep fried or baked pretzels and cheese sticks, to Chicken Fingers, Chicken Wings, Veggie Snacks and most impressively, one of the only places in town that serve Deep Fried Pickles.
The menu also includes a nice selection of salads, soups and sandwiches with entrees ranging from fish and chicken to steak.
Everyone from the clerk who greets you as you come in, to the bartenders and servers, are all very nice, friendly and polite. Your order is taken surprisingly quick, and your food is served cooked to order and hot, and always with a smile.
The Tilapia that I ordered was prepared with a flavorful recipe for this farm-raised fish and served smothered in portabella mushrooms and an incredible mix of roasted Red Peppers, Shrimp, Garlic and Basil Bruschetta and Rice Pilaf, prepared to perfection.
The nice thing about this restaurant is, you do not only get a great meal for your money, but many of the most talented and amusing comedians from Erie and around the country entertain you as you laugh uncontrollably, enjoying a fantastic variety of delicious foods.
This weekend, James Johann, who has been dubbed the "Rural Genius", will be performing with special guest and word smith, Moody McCarthy.
To open the show is the no gimmicks, just straight set-up & punch brand of comedy of Moody McCarthy.
Headlining the evening is a nineteen-year veteran of the stand-up comedy circuit, James Johann, whose high-energy style of self-deprecating humor will keep you in stitches the entire show. Having completed the 2003 theatre tour "Paying for the New Trailer" starring Jeff Foxworthy and Larry the Cable Guy and being featured on Comedy Central's Premium Blend among many other accolades, Johann's comic pedigree is certainly well groomed.
Jr's Last Laugh takes you away from the everyday hassles and lets you relax and let go for a little while. With great service and scrumptious food and good prices, Jr's is perfect for a fun night out and the funniest place in town. I recommend this place to everyone.