Hard Rock Done Old School
By Jenna Croyle
With sales estimated in the billions of dollars throughout the world, the blending of countless styles and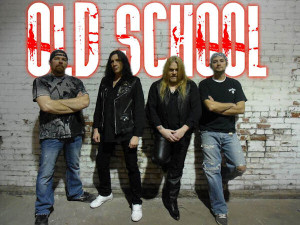 forms of music, and the popularity of the genre growing with fans of all ages still today, Hard Rock music has had the greatest influence on our culture over the past forty years, and has enjoyed the mass recognition as one of the most popular styles of music.
I am a true lover of all music, but like many people in Erie, the classic bands like AC/DC, Guns & Roses, Ozzy Osbourne, Black Sabbath, Metallica, and of course Pink Floyd are among those that I hold nearest and dearest to my heart.
Recently, I had the opportunity to see a show by a relatively new band that is one of the freshest and most phenomenal Hard Rock Tribute Band's playing out in Erie today.
With high talent and veteran musicians, attitude on overdrive, and that real Hard Rock feel and experience, this week's featured band, "Old School" brings Hard Rock home with the same style and stance of the legends of the genre.
Started in early 2013, Old School takes the much diversified talents and musical abilities of its members and blends their various influences and styles for a final product that is without doubt a true experience of the most fantastic kind for any Metal head.
Made up of Dan Thompson on Drums, Tommy "Attitude" Leube on Lead Guitar, Mark Bartlett on Bass Guitar, and Bob Mitchell on Lead Vocals and Guitar, Old School delivers the most devastating shows in town, with hard to believe power and passion.
Serving up a solid gold set list every show that includes, "Big City Nights" by the Scorpions, "Riff Raff" and "Sin City" by AC/DC, and "Suicide Solution" by Ozzy Osbourne, along with many more, Old School offers their audiences the Hard Rock music of yesterday belted out with their own original flair and that old school, in your face style.
The bands Drummer, Dan Thompson is truly outstanding in not only his speed, rhythmic diversity, and overall stick skills and energy, but in his genuine passion for the bands music as well. Thompson takes his drumming to new levels and shows us all how it should be done.
Tommy "Attitude" Leube uses his considerable talents and incredible fingerpicking skills, blended with the most high throttle playing and stage presence to create a one of a kind Rock show experience that leaves you revved up, wiped out, and begging for more. Leube's slamming riffs and waling rhythms are crushing, while being amazingly spot-on and an honest joy to hear.
Mark Bartlett on Bass Guitar is simply stellar, with devastating talent and rhythms, along with excellent time signatures, and the most intense and confident playing around, Bartlett keeps all the action in the low end, and brings his "A" game to the stage every time.
As the perfect example of what a Hard Rock band's Front Man should be, Bob Mitchell is super high energy, powerful and charismatic, and impressive to say the least. Mitchell's strong, intransient, and indelible voice rings out as though it were a beacon for Metal lovers everywhere, giving new and creative life to classic lyrics.
Old School is a fresh and captivating band, who's energy, talent, and zest for their music is as entrancing as it is hard-hitting, and as original as it is classic. Though comparatively new to the Erie Rock scene, Old School has already become a musical force to be reckoned with, and certainly local musical legends in the making. Old School is a must see band and the quintessential Rock show experience.
To learn more about "Old School", their show dates, booking contacts, and other information, please visit their Facebook page.