School of Rock Ranked in Entrepreneur's Prestigious 35th Annual Franchise 500
Leader in Performance-Based Music Education Recognized among the Franchise Elite
School of Rock, the leader in performance-based music education, was recently ranked in Entrepreneur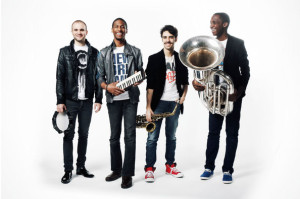 magazine's 2013 Franchise 500 for the fourth straight year. Recognized by entrepreneurs and franchisors as a top competitive tool of measurement, the Franchise 500 places School of Rock at No. 216 for its exceptional performance in areas including financial strength and stability, growth rate, and system size.
"School of Rock is the leading worldwide brand for performance-based music education and we are generating excitement in every community in which we operate," said Chris Catalano, CEO of School of Rock. "Over the past decade, we've worked hard to expand the inspirational opportunities for our students, employees and franchise owners worldwide. School of Rock will continue to inspire its students and make a difference by transforming the lives of kids and adults through music."
Throughout its 35 years in existence, the Franchise 500 has become both a dominant competitive measure for franchisors and a primary research tool for entrepreneurs. The rankings for all 500 companies are determined using an exclusive formula that takes into account objective and quantifiable factors. After the financial data is analyzed by an independent CPA, the franchises are given a cumulative score, and the 500 franchises with the highest scores become the Franchise 500 in ranking order.
"Compiling the Franchise 500 every year gives us the opportunity to share data-driven insights, reflect on areas seeing progress and acknowledge the companies that have risen to the top," says Amy Cosper, VP and editor in chief of Entrepreneur. "Franchises play an important part in economic growth, and the names in the ranking are leading the way with their continued and emerging business success."
This year marks School of Rock's fourth consecutive year on Entrepreneur magazine's Franchise 500 list. By inspiring the world to rock on stage and in life, the company continues to foster the next generation of artists through its performance-based program in major U.S. and international cities as more parents are seeking these types of enrichment programs that help develop their children's musical talents and abilities in a unique way. School of Rock started franchising in 2004 and now has more than 125 locations. With a presence in seven countries, the company continues to flourish, as it has expanded throughout Mexico, Canada, Brazil, Panama, the Philippines, and Australia in just the past year.
For more information about School of Rock, please visit http://www.schoolofrock.com. To learn about the opportunity to own and operate a franchise, please visit http://www.franchising.schoolofrock.com.
Complete results of Entrepreneur magazine's Franchise 500 list, including company profiles, can be found at http://www.entrepreneur.com/franchise500.
ABOUT SCHOOL OF ROCK
The music school your mom and dad wished they had when they were kids, School of Rock is an ingenious concept that gets kids and adults rocking out to the classics and up and performing with their peers. With more than 125 locations in seven countries, the franchise proves that rock and roll is here to stay. For more information about the franchise opportunity, please visit http://franchising.schoolofrock.com/.