World Premiere Harp Concerto by Oscar- & Grammy-Winning Composer Michel Legrand, with Catherine Michel and The Chamber Orchestra of Philadelphia
The Chamber Orchestra of Philadelphia Presents Haydn | Legrand February 9, 10 & 11 featuring a World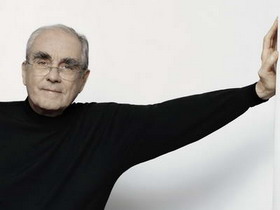 Premiere Harp Concerto by Oscar, Grammy, & Golden Globe Award-Winning Composer Michel Legrand with Harpist Catherine Michel.
Michel Legrand has won three Academy Awards (thirteen total nominations), five GRAMMYs, one Golden Globe, and two Palme d'Or, Cannes Film Festival's highest prize. As a conductor, composer, pianist, and arranger, Legrand has worked with numerous stars, including Barbara Streisand, Neil Diamond, Ray Charles, Diana Ross, Quincy Jones, Aretha Franklin, Stan Getz, Miles Davis, and countless others.
World-renowned and award-winning harpist Catherine Michel will perform as soloist for the world premiere performances on February 9, 10 and 11.
Music Director Dirk Brosse will conduct Haydn | Legrand, which highlights music both old and new – featuring pieces of Baroque, Classical, and Contemporary styles. Rameau's Suite for Strings and Haydn's Symphony No. 104 open and close the program, respectively.
FEBRUARY 9 AND 10 AT THE KIMMEL CENTER
A founding resident company of The Kimmel Center for the Performing Arts, the Chamber Orchestra's February 9 2:30 pm and February 10 7:30 pm concerts will be performed in the Kimmel Center's intimate Perelman Theater. Tickets for the Perelman Theater performances are $24 to $81. The Sunday matinee performance will be followed by "Classical Conversations," a brief question-and-answer session with Music Director Dirk Brosse, Ms. Michel and Mr. Legrand.
FEBRUARY 11 AT THE LINCOLN UNIVERSITY
The February 11 7:00 pm concert will be held at The Lincoln University, in the International Cultural Center. The February 11 concert at The Lincoln University is free of charge and open to the public.
Jean-Philippe Rameau | Suite for Strings (arr. R. Temple-Savage)
Though Rameau's reputation was dependent mostly on his works for the theater, his compositions for harpsichord were considered to be the finest collection of music for the instrument ever produced in France. About two hundred years after the publications of his arrangements of a number of his keyboard pieces for harpsichord with violin or flute and bass viol, Richard Temple-Savage selected five pieces from the composer's harpsichord collections, and arranged them for string orchestra and added a pair of rigaudons from Rameau's opera Dardanus, to create the suite to be heard in the concerts.
Michel Legrand | Harp Concerto (World Premiere)
Oscar award-winning composer Michel Legrand, best known for his film and television scores, has an impressive musical background beyond his media-related achievements as a composer, pianist, and conductor. His special gift for luscious and vividly atmospheric textures lends itself particularly well to music for the harp, an instrument prominently featured in orchestral works drawn from his award-winning scores. His one movement Harp Concerto, in which various tempos are interwoven, will make its world premiere at these Chamber Orchestra concerts. The piece was commissioned by The Chamber Orchestra of Philadelphia, and will be a musical experience rich both in romantic warmth and in the kind of dynamic power that Legrand's scores have always possessed.
Joseph Haydn | Symphony No. 104 in D Major, Hob. I: 104, "London"
While Haydn's 104th Symphony foreshadows the writings of Beethoven, it is also a summation of traditional symphonic writing. Nicknamed the "London" Symphony, it is his ode to the city that set the seal on his international reputation, and was very close to Haydn's heart. Compared to two of his other symphonies finished in London, No. 104 has a more inward nature, and exemplifies genuine musical, dramatic, and emotional power.
Harpist Catherine Michel is an acknowledged authority in the international harp world, and is known as the leading representative of the great French harp tradition. She has competed in several international competitions, winning twoGrand Prizes and one Gold Medal. Ms. Michel began her international career as a soloist when she became a member of l'Orchestre National de France and has worked under a number of world-renowned conductors throughout her career. Ms. Michel has a number of recordings for the Philips and Vox companies, and has also published a book about the literature of the harp in the 18th century. She taught at many prestigious conservatories in Europe, and now gives masterclasses all over the world. With her interest for film music and musicals, acclaimed composer Michel Legrand arranged pieces for Ms.
Michel from his original scores for solo harp and symphony orchestra. Ms. Michel and Mr. Legrand have been performing with the most prestigious orchestras across the globe since 2005.
***
The Chamber Orchestra of Philadelphia
Haydn | Legrand
Sunday, February 9, 2014 at 2:30 PM
Monday, February 10, 2014 at 7:30 PM
Kimmel Center for the Performing Arts' Perelman Theater
Tuesday, February 11, 2014 at 7:00 PM
The Lincoln University's International Cultural Center
Dirk Brosse, conductor | Catherine Michel, harp
Program:
Rameau | Suite for Strings
Legrand | Harp Concerto (World Premiere)
Haydn | Symphony No. 104 in D major ("London")
Tickets:
Kimmel Center: $24 – $81 | chamberorchestra.org or 215.893.1709
The Lincoln University: Free | Groups of 10+ require reservation: 484.365.7434