New Podcast Talk Show Bridges Gap Between African and American Celebrities to Address Social Issues
Everything Toni Payne, an online show hosted by African Entertainment Personality, Writer and Poet, Toni Payne.
Different cultures typically have different perceptions about various issues. What may be perceived as normal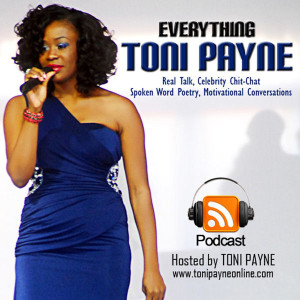 behavior in one society may be a significant social issue in another. The case is not different between the African and American cultures. The differences in these cultures can most times form how their celebrities view things and how they themselves are perceived. Celebrities, regardless of where they acquired their fame, have fans who most times hang on to their every word and action and look up to them to speak about certain social issues. We have seen African bred celebrities like Djimon Hounsou and even more recently Lupita Nyong'o, cross over to receive wide acceptance and influence with American fans. At the same time, in Africa, people like Beyonce and Chris Brown have people who look forward to their next move. This goes to show that an African talent can have influence in America and vice versa. However, we are yet to see a platform that brings the two cultures together in one place to address different topics from from different cultural perspectives and also introduces to the listener music from around the world. Everything Toni Payne, an online show hosted by African Entertainment Personality, Writer and Poet, Toni Payne, is the first African celebrity hosted weekly podcast show that aims to do just that.
"The show was created to promote diversity and bridge an essential gap between the two cultures" Payne said. "It is a fun show where my guests and I freely express ourselves and give insights into our views and how they have obviously been influenced by our upbringing" "A deeper look and you will see that it's easy to relate with and respect people who have been raised differently from you" she concluded.
Payne brings to the table, a witty personality, an ability to draw the listener in and an exposure to both parts of the world. The show often brings on a Celebrity guest, who is invited to share their views about social and sometimes personal issues. Listeners will hear different topics being addressed from the perspective of someone who may have had a different upbringing from theirs.
In order to further give the audience a feel of what music in other parts of the world is like, the show which is also the first of its kind on iTunes and Stitcher Radio, has a mid-show break plays the best in African, Caribbean, and other music from different parts of the world. The listener can enjoy new sounds which they would not ordinarily be exposed to on traditional radio.
For more information, contact Toni Payne on twitter @tonipayne on Facebook @officialtonipayne or visit the official website on http://www.tonipayneonline.com
Based in Los Angeles, USA and Lagos, Nigeria, the Everything Toni Payne Podcast serves listeners interested in different social issues as well as music from around the world. Hosted by Toni Payne, Everything Toni Payne is released on a weekly basis and is available for subscription at Apple iTunes, Stitcher Radio, Youtube and more