Strangers and Liars at the King's Rook Club
By Terry Pentelli
This Saturday night, March 8th, the King's Rook Club sizzles with the red hot sounds of Strangers and Liars'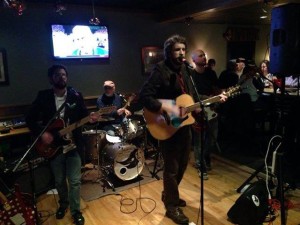 CD Release Party, blazing through the night with the freshest tunes of their latest album.
Located at 1921 Peach St, Erie, the King's Rook Club has for decades been one of Erie's most talked about and visited night spots. The King's Rook Club offers a relaxed, yet high throttle environment and features sofas, coffee tables, and lounge chairs that make for a laid-back ambience and a cool club vibe.
Serving up a killer menu of Pizza by the slice, Subs, Hot Dogs, Brats and Italian Sausage, along with other selections, the King's Rook Club has something for everybody.
In addition, the King's Rook Club offers the best live music in town, with the hottest original Rock and Classic Rock bands, bringing the noise and pounding the sounds.
This Saturday's show is no different, and totally off the hook with the hard-hitting energy and powerhouse music of Strangers and Liars.
Featuring Tommy Link on Vocals, Guitar, and Harmonica, Justin Anderson on Lead Guitar and Vocals, Russ Straub on Bass Guitar, and legendary musician Tom Hitt on Drums and Vocals, Strangers and Liars is a star studded, mega talented collection of many of the hardest Rockn' musicians in town.
The new Strangers and Liars CD entitled "Live That Way" features ten of the smoothest Rock releases, with bitchn' instrumentals and wicked lyrics.
Among the tunes you will hear at Saturday's event will surely be What's In A Name?, State Of Mind, Natural Appearances, The Book Was Closed, and Live That Way, along with other wicked, supercharged hit style music.
The Strangers and Liars' original music throbs with energy and kicks mad grooves with powerful and smart lyrics that grab you like real Rock should.
With a hard driving attitude, raging Rock hooks, and blistering rhythms, Strangers and Liars turns up the heat, and fires up a frenzy of party on overdrive this Saturday night.
This weekend, do your Saturday night right, party with a passion and get your jam on at the biggest bash of the weekend, and the most insane CD Release Party. This show is an all out, balls to the walls night of original Rock mania that comes raw and real, and straight from the heart.
The entire night kicks off at 9pm and is no doubt guaranteed to be the place to be, and the best night of original Rock this weekend.
For more information on Strangers and Liars, their new album, other show dates, and booking information, please visit their Facebook page.