It's here – winter, in all it's glory! It's time to get into the studios and take a Master Class, a Workshop or even a Class that will expand your horizons and possibly blossom into something beautiful this Spring!
Dance in Film Workshop with Alethea Bodine and Holly Anderson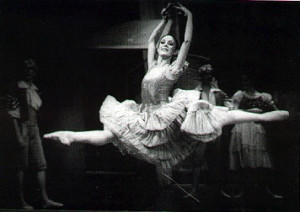 Saturday, 1/18 1:30-3:30 pm,  ages 8-16 / $10 Registration Fee, LEBjrC FREE
Spend the afternoon watching great dance moments in film and learning some of the moves of the greats in film! Learn more about Ms. Bodine & Ms. Anderson on our website.
Liturgical Dance Workshop with Christina Maria Adelhardt,
Saturdays Jan. 26 – Mar. 1, 1:30-3:00 pm The fee for this workshop is $60
This six week workshop will focus on the creation and performance of a Liturgical Dance work by LEB Ballet Director, Christina Maria Adelhardt. This workshop is open to dancers age 8 – 16.
Try one of these fun and insightful Master Classes or Workshops – it's as simple as registering online for the program of your choice. Learn more about this season's onging classes on our website. The month of January is a great time to try something new. The 2013-2014 LEB Spring Term begins Jan. 21.
A Letter from the Director
Shine On Brightly
We greet 2014 with a hearty "Welcome" – for this New Year and our fair city of Erie demand it of us!
The year 2013 brought some incredible things – successes and challenges alike, but I think 2014 will bring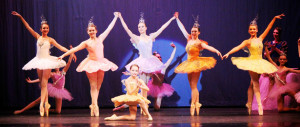 even more opportunities and greater growth for everyone than ever before. Because now, more than ever before – I feel we have all been burdened with an incredible promise of hope. This type of thing can ignite even the smallest spark into a roaring flame – burning so hot and so bright that nothing will stop it.
The challenges will come from within, for growth and outreach, for greater performance and innovative ideas. We'll be needing to shore up the old and reach out and wrap our heads and hearts around the new. We welcome 2014 with the enthusiastic promise to continue to work our magic and expect miracles, because as Erieite's that's what we do best. We are the keepers of the flame and proudly bear this incredible burden of hope. (But those of us who live here know it's really not as hard as one might think.) We are blessed with the strength and inherent beauty of Erie. Erie may be depressed with it's industry "on the skids" and economic woes, but those of us who live here know – there is no better place to live and grow. We know this because Erie has always been strong in placing value in it's heritage of art and culture. This is what makes us all rich, beyond our wildest dreams. And this is what feeds the flame that will burn hot and bright this year – I can feel it and I hope you do too. I encourage you to continue to dig deeper and reach higher this year, to burn with the intensity known only in these parts by real Erieites. Those of us here at the Lake Erie Ballet will be right beside you, burning brightly.
A big thank you to those that have helped to "fan the flame" in 2013 ~
Gary Cacchione and Dovetail Gallery
Lori Yusz and the Friends of the Ballet
Amanda Sissem with Arts Erie and the Erie Downtown Arts & Culture Coalition
All the incredibly talented people that have shared so much of themselves with LEB
All of those that believe in something bigger, better and more beautiful than your wildest dreams
Thank you and may you continue to shine brightly in 2014!
Alethea Bodine – Artistic